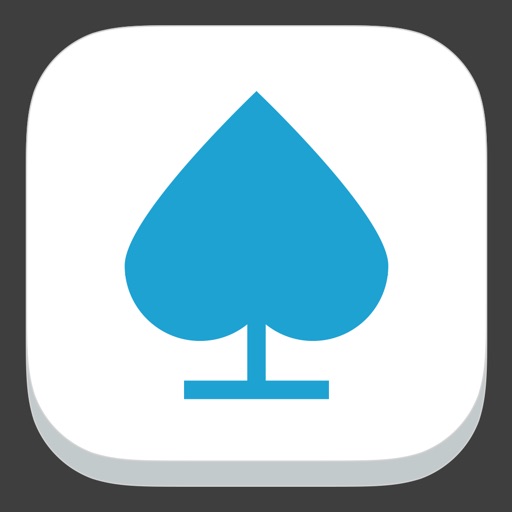 Sage Solitaire is a brand new Solitaire variant that combines the luck and joy of Solitaire with the depth of Poker; lovingly crafted, and optimized for your phone.

**As featured in the New York Times holiday gift guide!**

Named 'Game of the Week' by both TouchArcade.com and BoingBoing.

5/5 Stars "A fantastic example of how to make a mobile card game that's unique, fast, and strategic." - Touch Arcade

4.5/5 Stars "I'm in love with Sage Solitaire" - App Advice

------WHATS IN THE "BOX"?
The free version of Sage Solitaire deals out Single Deck, and Vegas Modes. A single in-app purchase kills ads, and unlocks more modes, wallpapers, and themes that pair nicely with any situation you might be in. So take it with you, Sage is a Solitaire game fit for your life.

------MORE PRAISE FOR SAGE SOLITAIRE...
"No doubt about it: If you liked Threes you're gonna enjoy Sage Solitaire." - Asher Vollmer, creator of Threes

"I can't stop playing" - The Verge

"Might be one of the best designed games of the year" -FastCompany

"Already taking over where my Threes addiction left off..." ProductHunt

"A great take on solitaire" - SlideToPlay

------A WORD FROM THE DEVELOPER
Klondike and FreeCell Solitaire are great games when all you have is a deck of cards, but you have more than that, you have the computer phone of the future! Our phone screens aren't the size of a table (yet), so why do we have to play solitaire games designed for tables?

Isn't it time we had a solitaire game where the cards were big enough to see and easily touch? Shouldn't there be a solitaire game light enough to play casually, yet deep enough for swapping strategies with friends?

At least that's what I think.
I hope you enjoy Sage Solitaire.

-zach

------FULL GAME FEATURE LIST
- Five Different Modes (Single, Double, Vegas, Grit, and Fifteens)
- 40 Achievements
- Tons of GameCenter Leaderboards
- In-Depth Statistics tracking synced across devices through iCloud
- Loads of Wallpapers and Card Backs
- Night Mode (easy on your eyes for playing in the dark)
iPhone-3GS / iPhone4 / iPodTouchFourthGen / iPad2Wifi / iPad23G / iPhone4S / iPadThirdGen / iPadThirdGen4G / iPhone5 / iPodTouchFifthGen / iPadFourthGen / iPadFourthGen4G / iPadMini / iPadMini4G / iPhone5c / iPhone5s / iPhone6 / iPhone6Plus / iPodTouchSixthGen
Added 4 more high-tier bets for you totally amazing vegas players: 10k, 25k, 50k, and 100k. These bets are extra tricky thanks to bottom row negative multipliers, so good luck!

Also, small side note:
A few people in the reviews keep accusing me of rigging the deck. I promise it's purely random and nothing is rigged. The issue where you keep seeing a number under another number is "frequency illusion" (google it!). If you still don't believe me, try to imagine this from my perspective — why would I rig the game to make it less fun? Half the thrill of game design is using randomness in interesting ways, if you just 'rig it' that's cheating.

I know there are a lot of games out there that rig the randomness (i'm looking at you slotmachines and certain very successful freemium games that I will not name) to try to get you to spend more money, but in Sage there aren't consumable IAP purchases... There is literally no reason I would rig this game.

-------- WHATS NEW IN 1.1 ----------------------------
- 2 brand new gambling-style game modes
- 40 Game Center achievements
- Low FPS battery conserve option
- Volume control fix
- Added option to share on Facebook
- Loads of bug fixes
- Stopped rigging the deck (just kidding, I've never rigged it, it's always been purely random)

Holy cow, this update sure took a lot longer than I expected. Thanks for sticking with Sage Solitaire for this long! I'm so excited to share what I've been working on the past few weeks. I tried to address many of the requests I've gotten from you all.

The biggest addition is two new modes, centered around a gambling mechanic, available for free!

The first mode is Vegas mode where every game matters and high-scores are set by the daring. It's tough, but if you lose too badly you can always reset your bank.

The second mode is high stakes and more intense; True Grit mode is like Vegas mode, but all your decisions are permanent. You can never reset your total, and if you go below zero, you can never play it again.

If this isn't enough, there are now 40 achievements to collect, ranging from trivial, to interesting, to nearly impossible.

All of this sits atop a ton of feature requests and bug fixes. There should be lots here to keep you going for a while. Enjoy! :)

p.s. As always I don't put any update nag screens in my games, but if you like the game, it's always nice to leave a review. Thanks so much!
Sage Solitaire
ランキング解析情報詳細
※当データはiOS-App.jpの独自集計によるものとなりAppStoreに実際に表示された内容と若干異なる場合がございます。