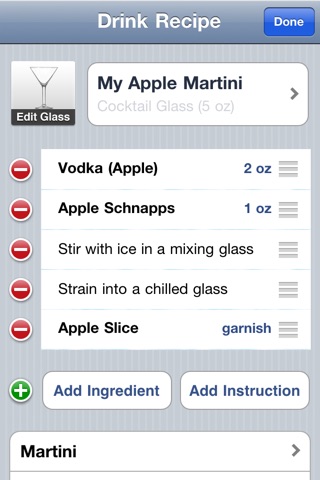 "The magic of Top Shelf is that it thinks the way most of us do."
- NYTimes.com

"Top Shelf should win a prize for the most refined cocktail application for the iPhone and iPod touch."
- Macworld.com

-------------------------

If you like to mix cocktails (or you want to order something more interesting than a gin and tonic), you just found yourself one fine reference tool. Top Shelf features thousands of amazingly high quality drink recipes. Whether you're a professional bartender or amateur mixologist, you'll find everything you need in one lightning-fast, super-polished app.

-------------------------

Features:

SUPER HIGH QUALITY RECIPES
Top Shelf includes thousands of carefully selected and edited recipes, ranging from classic cocktails to popular contemporary shooters. There are no filler recipes that you'd never want to drink.

CATEGORIES
All of the recipes have been organized into handy categories. Feeling nostalgic? Top Shelf has all the classics. On a mission? Top Shelf has hundreds of shots and shooters. There are even several flaming drinks for the daredevils.

LIQUOR CABINET
This innovative feature allows you to maintain a list of spirits (and mixers) you have and shows you what you can make with them.

FULLY CUSTOMIZABLE
All of the included recipes are completely editable, and you can add all of your own concoctions. If you just want to leave yourself a note, there's a place for that too.

POWERFUL SEARCHING
Find any drink by name, either within a specific category or across the whole database. Browse combinations of ingredients using a fun and intuitive drill-down interface.

FAVORITES
When you find a recipe you like, mark it as a favorite for easy future access or email it to your friends.

RANDOMIZE EVERYTHING
Feeling indecisive? Let Top Shelf pick a random recipe for you. You can get a random drink from the entire database, a specific category, your favorites, search results, or the liquor cabinet.

IMPERIAL OR METRIC UNITS
Top Shelf will try to auto-detect whether you pour in ounces or centiliters, but you can always specify your preference in the iPhone Settings application.

FAST AND FRIENDLY
Top Shelf is designed from top to bottom to be beautiful, usable, and snappy. Since the recipes are stored on your device, you don't have to wait for anything to download from the Internet, and there are no ads to get in your way.
iPhoneFirstGen-iPhone / iPodTouchFirstGen-iPod-touch / iPodTouchSecondGen-iPod-touch-with-mic / iPhone3G-iPhone-3G / iPhone3GS-iPhone-3GS / iPadWifi-iPadWifi / iPad3G-iPad3G / iPodTouchThirdGen-iPodTouchThirdGen / iPhone4-iPhone4 / iPodTouchFourthGen-iPodTouchFourthGen / iPad2Wifi-iPad2Wifi / iPad23G-iPad23G / iPhone4S-iPhone4S / iPadThirdGen-iPadThirdGen / iPadThirdGen4G-iPadThirdGen4G / iPhone5-iPhone5 / iPodTouchFifthGen-iPodTouchFifthGen / iPadFourthGen-iPadFourthGen / iPadFourthGen4G-iPadFourthGen4G / iPadMini-iPadMini / iPadMini4G-iPadMini4G / iPhone5c-iPhone5c / iPhone5s-iPhone5s / iPadAir-iPadAir / iPadAirCellular-iPadAirCellular / iPadMiniRetina-iPadMiniRetina / iPadMiniRetinaCellular-iPadMiniRetinaCellular / iPhone6-iPhone6 / iPhone6Plus-iPhone6Plus / iPadAir2-iPadAir2 / iPadAir2Cellular-iPadAir2Cellular / iPadMini3-iPadMini3 / iPadMini3Cellular-iPadMini3Cellular / iPodTouchSixthGen-iPodTouchSixthGen / iPhone6s-iPhone6s / iPhone6sPlus-iPhone6sPlus / iPadMini4-iPadMini4 / iPadMini4Cellular-iPadMini4Cellular / iPadPro-iPadPro / iPadProCellular-iPadProCellular / iPadPro97-iPadPro97 / iPadPro97Cellular-iPadPro97Cellular / iPhoneSE-iPhoneSE / iPhone7-iPhone7 / iPhone7Plus-iPhone7Plus / iPad611-iPad611 / iPad612-iPad612 / iPad71-iPad71 / iPad72-iPad72 / iPad73-iPad73 / iPad74-iPad74 / iPhone8-iPhone8 / iPhone8Plus-iPhone8Plus / iPhoneX-iPhoneX / iPad75-iPad75 / iPad76-iPad76 / iPhoneXS-iPhoneXS / iPhoneXSMax-iPhoneXSMax / iPhoneXR-iPhoneXR / iPad812-iPad812 / iPad834-iPad834 / iPad856-iPad856 / iPad878-iPad878
Streamlined adding and removing of Liquor Cabinet ingredients - you can now add many ingredients at the same time.
Top Shelf Drinks
ランキング解析情報詳細
※当データはiOS-App.jpの独自集計によるものとなりAppStoreに実際に表示された内容と若干異なる場合がございます。