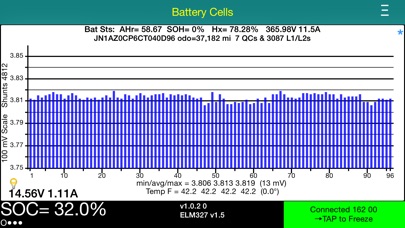 The Leaf Spy Pro application allows anyone with a Nissan Leaf electric vehicle, an iOS 7.1+ device and the LELink Bluetooth 4.x LE OBDII adapter (recommended) or a WiFi OBDII adapter the ability to monitor their battery and other vehicle information normally visible only to the dealer. Support for English and Japanese language.

Note: The iPhone 4 and early iPads (2nd Gen) do NOT support Bluetooth 4.0 LE.

Information displayed by Leaf Spy Pro:

* Voltage of each of the 96 cell pairs (highlighted if shunt active)
* Minimum, average, maximum cell pair voltages
* Histogram of cell pair voltages
* Battery Temperature readings (4 sensors for 2011/12 models, 3 for 2013 models)
* Battery AHr rating (this will decease with age and is an indication of remaining capacity)
* VIN
* Odometer (miles or km)
* Number of Quick Charge connections
* Number of L1/L2 Charge connections
* EVSE Max available amps
* EVSE voltage
* Battery energy level in GIDs & kWh
* Resetable energy usage meter (Wh resolution)
* Graphic display of SOC, GIDs and DTE (Distance to Empty)
* Remaining distance meter (miles/km) to Event (Low Battery Warning, Very Low Battery Warning or Reserve) based on user selectable energy efficiency
* Graphic display of battery temperature with min, avg, max temperatures
* Tire Pressure of each of the four tires with low pressure warning and delta pressure warning alarm
* Ambient Temperature
* Displays climate control settings and power used.
* Trip and Charge Log
* Logging function that records most data and optionally GPS location to a csv file that can be easily imported into excel.
* Dropbox support to sync Log files
* Can run in background while connected to Leaf


LeafSpy Pro also gives you the ability to perform functions normally requiring a visit to the dealer.

* Change automatic door lock/unlock settings
* Read Diagnostic Trouble Codes (DTC)
* Register Tire Positions (required after tire rotation or seasonal tire changes so your Leaf knows the correct location of each tire on the car)
* Ability to reset DTCs from selected ECUs


When using run in background mode where you enable GPS to run continuously. Please note the following:

Continued use of GPS running in the background can dramatically decrease battery life.
iPhone4-iPhone4 / iPad2Wifi-iPad2Wifi / iPad23G-iPad23G / iPhone4S-iPhone4S / iPadThirdGen-iPadThirdGen / iPadThirdGen4G-iPadThirdGen4G / iPhone5-iPhone5 / iPodTouchFifthGen-iPodTouchFifthGen / iPadFourthGen-iPadFourthGen / iPadFourthGen4G-iPadFourthGen4G / iPadMini-iPadMini / iPadMini4G-iPadMini4G / iPhone5c-iPhone5c / iPhone5s-iPhone5s / iPadAir-iPadAir / iPadAirCellular-iPadAirCellular / iPadMiniRetina-iPadMiniRetina / iPadMiniRetinaCellular-iPadMiniRetinaCellular / iPhone6-iPhone6 / iPhone6Plus-iPhone6Plus / iPadAir2-iPadAir2 / iPadAir2Cellular-iPadAir2Cellular / iPadMini3-iPadMini3 / iPadMini3Cellular-iPadMini3Cellular / iPodTouchSixthGen-iPodTouchSixthGen / iPhone6s-iPhone6s / iPhone6sPlus-iPhone6sPlus / iPadMini4-iPadMini4 / iPadMini4Cellular-iPadMini4Cellular / iPadPro-iPadPro / iPadProCellular-iPadProCellular / iPadPro97-iPadPro97 / iPadPro97Cellular-iPadPro97Cellular / iPhoneSE-iPhoneSE / iPhone7-iPhone7 / iPhone7Plus-iPhone7Plus / iPad611-iPad611 / iPad612-iPad612 / iPad71-iPad71 / iPad72-iPad72 / iPad73-iPad73 / iPad74-iPad74 / iPhone8-iPhone8 / iPhone8Plus-iPhone8Plus / iPhoneX-iPhoneX
- Dropbox support has been updated to Dropbox's new API 2 interface as API 1 is no longer supported. There is also a new Reset ID button available when Dropbox is disabled that clears the saved login information, if it exists, so a different Dropbox account can be selected. A Long press of the Reset ID button is required to active this function.

- In switching from Dropbox API 1 to API 2 LeafSpy will initially disable Dropbox when started. Go into Settings/Dropbox and re-enable Dropbox and exit Settings. In a few seconds a new Dropbox login page will appear so you can re-authorize LeafSpy's access to Dropbox using the API 2 interface.

- Preliminary support for the 2018 Leaf. At this time the odometer can not be read so features that rely on distance are disabled. Once the 2018 Leaf becomes more available for analysis this restriction should be removed. US and Japanese 2018 model Leafs are automatically detected based on VIN/Chassis number. For 2018 Leafs in other countries please go into Settings and manually select the model year.

- SOH (State of Health of the battery) resolution has been increased by a factor of 100 (86% to 86.34%).

- Improved BMS Only mode where screens not providing BMS data are hidden.

- The server function now uploads Power Switch status (0/1), Temperature units (C/F) and motor RPM.

- Added support for two additional Bluetooth 4.x LE adapters (VEEPEAK and Stalhlcar).

- Changed the default battery shunt order from "4812" to "8421" which seems to be a better mapping. You will need to go into Settings/Battery to manually make this change if you already have LeafSpy installed.

- If your Leaf did not come with the Auto headlight feature but you have added the necessary hardware to support it you can now enable Auto headlights as an option of the Headlight service screen.

- If your Leaf supports reading the 12v battery current it will be displayed to the right of the 12v battery voltage.

- Requested motor torque is now saved to the log file in Nm units.
※当データはiOS-App.jpの独自集計によるものとなりAppStoreに実際に表示された内容と若干異なる場合がございます。